Another week, another Wednesday!
Thank god it is half way through the week! My friend Shannon from college is coming this weekend and I could not be more excited. I saw her about 3 months ago when I visited her in Delaware.
A random tangent, I am loving the 50 degree weather we have been having, it makes me afternoon walks with my pup so much more enjoyable! Add that to the list of reasons why I am happy to have a SHORT commute, I get to take my dog on a nice afternoon stroll. I will always and forever be his favorite in this household 😉
On to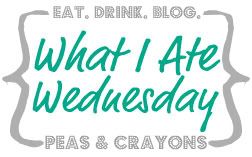 Thank you Jenn for hosting
Breakfast: Smoothies are back

Bet you were surprised it wasn't oatmeal! I was in need of a change and the warmerish weather was making me crave smoothies!
Lunch: Some left over vegetarian stew (recipe will be posted on Monday)

Dinner: Slow cooker honey sesame chicken, quinoa and extra roasted brussels sprouts!

someone had a snack

Don't worry mom he didn't really eat it, he would have if we let him!
Snacks: Wheat Thins and Protein Bites

Eat anything fun this week?

What are your thoughts on this weather we are having in January!?